Swimming Pool Automatic Dosing Systems
Swimming pool automatic dosing systems offer numerous benefits that make pool maintenance easier and more efficient. Firstly, these systems ensure precise and consistent chemical dosing, maintaining optimal water quality. They automatically measure and dispense the required chemicals, eliminating the guesswork and manual calculations involved in traditional dosing methods. Additionally, automatic dosing systems help prevent over- or under-dosing, which can lead to imbalances and costly water problems. By keeping the chemical levels in check, these systems promote safe and healthy swimming conditions, reducing the risk of waterborne illnesses. Moreover, they save time and effort for pool owners and operators, as manual dosing tasks are significantly reduced. Overall, swimming pool automatic dosing systems streamline pool maintenance, enhance water quality, and provide peace of mind to pool users.
As experienced swimming pool maintenance engineers, we provide swimming pool automatic chemical dosing systems from some of the industry's most trusted suppliers, Kuntze and Process Pools. Have a look through the information below for the Neon® Multi from Kuntze and the AutoPool® 4.0 from Process Pools. Both these systems offer full, automatic chemical dosing for your swimming pool to ensure you have the best quality water. If you have any questions about the system or would like to speak to on our team about our installation services, then please contact us.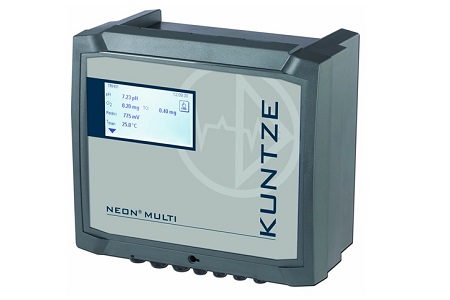 Automatic Chemical Dosing with the Neon® Multi Kuntze System
Neon® Multi is a market leading measuring and control instrument for swimming pools. Its range of functions can be tailored according to the end user. The entry level version is equipped with three measurements: disinfectant, pH and temperature. Additionally, redox potential and a 5th measurement can be added (total chlorine or conductivity). The Kuntze Neon Pool Controller gives customers clear, concise control of their swimming pool water, providing accurate and reliable measurement of disinfectants such as chlorine. Potentiostatic measurement has been the number one choice method of measuring disinfectants. The Kuntze Zirkon® Double Gold sensors don't require electrolyte replenishment or replacement membranes to maintain calibration and the Zirkon® Disinfectant sensors are low maintenance with a long operational life.
ASR® is Kuntze's new patented automatic sensor cleaning system and is incorporated within their instruments and it's also the most effective way to clean the electrode surfaces of the disinfection sensor and maintain accurate measurement, along with many more benefits. Cloud Connect® offers controlled water measurement any time, any place. It provides a dashboard to view all the KPI's from the neon pool, monitoring and alerting you to any problems. StabiFlow® is a simple device to control the flow of water pasts the sensors for the precise measurement of the disinfectant product. Installing a system is of the utmost importance for your swimming pool, as the chemicals in your pool water will directly affect the safety and usability of the pool. Contact us today to discuss any requirements you have about our automatic chemical dosing units.
The Neon Multi Kuntze includes:
Pool & Spa Controller
Potentiostatic Open Sensor Measurement
Automatic Sensor Cleaning (ASR®)
Cloud Connect®
StabiFlow®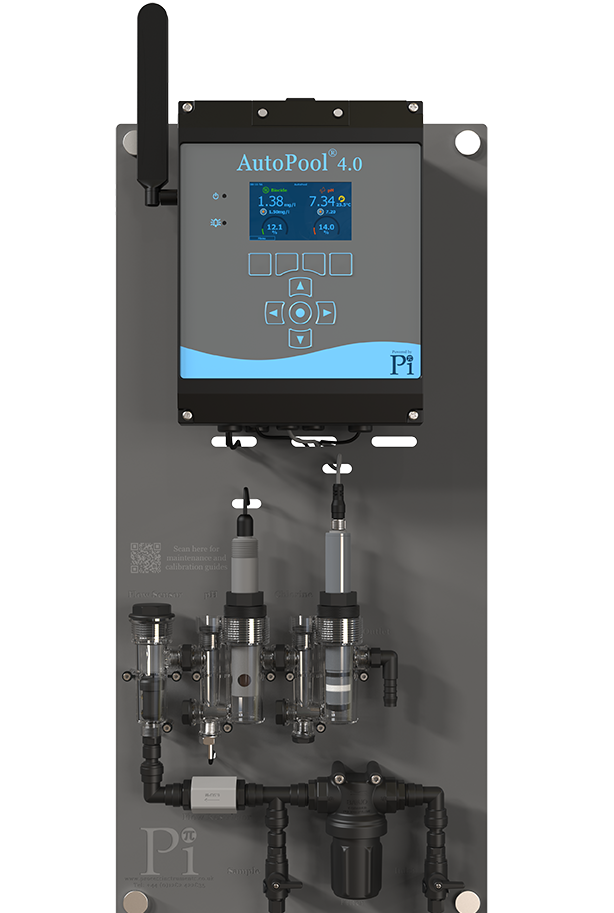 Automatic Chemical & Chlorine Dosing for Swimming Pools with the AutoPool® 4.0
In 2008 Process Instruments took its drinking water controllers, with drinking water quality sensors, and they made a high-quality, low-cost pool controller. Having now established the pool controller all over the world, Process Pools has been formed, a dedicated arm of the parent business Process Instruments.  In the AutoPool® and the AutoPool® 4.0 range, there are 6 preconfigured models to choose from or you can configure your own bespoke system. The systems are all environmentally sound, are easy to use and can generate you massive electricity savings. 
Crystal Leisure are proudly now supplying the AutoPool® and the AutoPool® 4.0 ranges offering a full installation service and any ongoing maintenance which is required too. If you'd like to discuss the installing an AutoPool® system for your swimming pool or leisure facility, we'd love to hear from you so we can discuss what system would be best for you needs. You can contact us here.