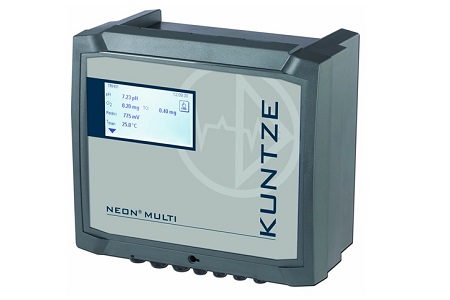 Full Automatic Chemical Dosing Installation Service with the Neon Multi Kuntze System.
Neon® Multi is a market leading measuring and control instrument for swimming pools. Its range of functions can be tailored according to the end user. The entry level version is equipped with three measurements: disinfectant, pH and temperature. Additionally, redox potential and a 5th measurement can be added (total chlorine or conductivity). The Kuntze Neon Pool Controller gives customers clear, concise control of their swimming pool water, providing accurate and reliable measurement of disinfectants such as chlorine. Potentiostatic measurement has been the number one choice method of measuring disinfectants. The Kuntze Zirkon® Double Gold sensors don't require electrolyte replenishment or replacement membranes to maintain calibration and the Zirkon® Disinfectant sensors are low maintenance with a long operational life.
ASR® is Kuntze's new patented automatic sensor cleaning system and is incorporated within their instruments and it's also the most effective way to clean the electrode surfaces of the disinfection sensor and maintain accurate measurement, along with many more benefits. Cloud Connect® offers controlled water measurement any time, any place. It provides a dashboard to view all the KPI's from the neon pool, monitoring and alerting you to any problems. StabiFlow® is a simple device to control the flow of water pasts the sensors for the precise measurement of the disinfectant product. Installing a system is of the utmost importance for your swimming pool, as the chemicals in your pool water will directly affect the safety and usability of the pool. Contact us today to discuss any requirements you have about our automatic chemical dosing units.
The Neon Multi Kuntze includes:
Pool & Spa Controller
Potentiostatic Open Sensor Measurement
Automatic Sensor Cleaning (ASR®)
Cloud Connect®
StabiFlow®