Transforming a Vision into Reality: A Spectacular GRP Tiled Swimming Pool Construction Project
Embarking on a journey to turn a client's vision into a stunning reality, our recent project involved the complete overhaul of an old, unfit pool shell. Focused on minimising construction time and ensuring structural excellence, we chose a Glass Reinforced Plastic (GRP) tiled pool.
Explore the wonders of GRP pools and spas on our dedicated webpage
With the client's preferences at the forefront, we offered a bespoke experience, allowing them to select colours & patterns of tiles, pool covers, pool lighting, and water features during the design phase. With these details, we were able to produce detailed drawings of the final design for our client, and with these drawings, our client greenlit the project.
In collaboration with Spa Design and Build, celebrated for their work on projects like Lodore Falls Spa and Moddershall Oaks Spa, the GRP pool was manufactured at their cutting-edge Wirral facility. Concurrently, Crystal Leisure's on-site team readied the client's property grounds for the impending pool arrival.
On delivery day, a meticulous process unfolded as our team expertly manoeuvred the telehandler to place the sections into the ground and then assembled the pool sections, seamlessly tiling over joins for a flawless finish. The pool, now a work of art, was connected to a state-of-the-art plant room featuring a Zodiac filtration system, Astral heat pump, Kuntze automatic dosing system, and various pumps for water and river jets.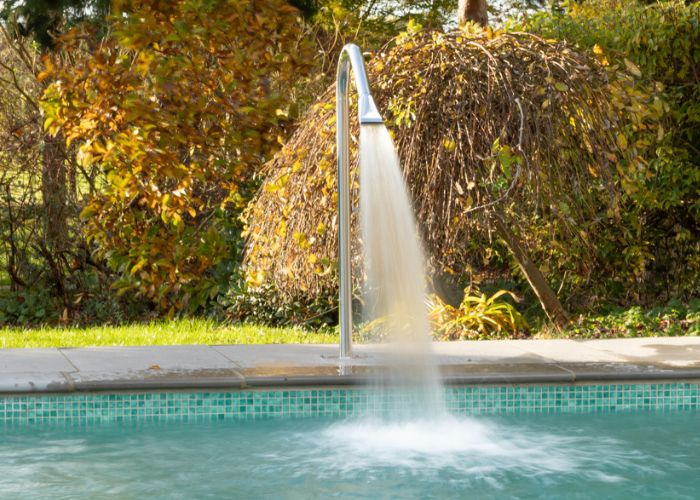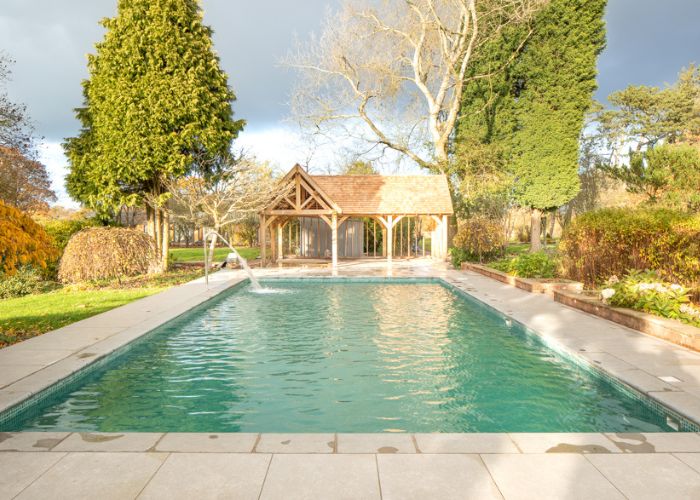 Our client's outdoor oasis boasts white LED pool lights, a river jet system for invigorating swims, and a hydrotherapy water jet for ultimate relaxation. To compliment the outdoor space, we adorned the pool surround with elegant grey outdoor porcelain tiles, creating a harmonious blend with the upcoming outdoor kitchen under the wooden pergola.
In the pursuit of both aesthetics and functionality, we introduced the AquaDeck automatic slatted cover, seamlessly integrated with a hidden reel system. This choice not only enhances the pool's visual appeal but also ensures easy accessibility for maintenance and servicing.
This project is a testament to our commitment to turning dreams into reality, creating not just a pool but a wellness retreat at home. The collaboration with Spa Design and Build, meticulous planning, and attention to detail have resulted in a masterpiece that our client will enjoy for years to come.
A Spectacular GRP Tiled Swimming Pool Construction Project

A Spectacular GRP Tiled Swimming Pool Construction Project 1

A Spectacular GRP Tiled Swimming Pool Construction Project 2

A Spectacular GRP Tiled Swimming Pool Construction Project 3

A Spectacular GRP Tiled Swimming Pool Construction Project 4

A Spectacular GRP Tiled Swimming Pool Construction Project 5

A Spectacular GRP Tiled Swimming Pool Construction Project 6

A Spectacular GRP Tiled Swimming Pool Construction Project 7

A Spectacular GRP Tiled Swimming Pool Construction Project 8

A Spectacular GRP Tiled Swimming Pool Construction Project 9

A Spectacular GRP Tiled Swimming Pool Construction Project 10